Local Love: Trip Trustees
Midtown Reader loves locally owned businesses! As an independently owned bookstore, we thrive in a community that supports shopping local. We intimately know the value of that support, so we are partnering with Trip Trustees to recommend some books surrounding safe travel and outdoor activities at a time like this.
Trip Trustees is a locally owned business that serves to connect families to civic-duty personnel on their off-duty time (or those that are retired from their vocation) to be Travel Assistants for seniors in our community.
Trip Trustees was founded in 2017 by Gino Fina. Fina served in the United States Navy as a Navy pilot for 11 years and afterward decided to use his GI Bill to become a registered nurse. Gino now works at Tallahassee Memorial Hospital specializing in psychiatric nursing while also still pursuing his dream as a pilot working for American Airlines. Working in healthcare and as a pilot, Gino recognized the need for senior assisted travel, which is when he created Trip Trustees!
Though we might not be able to travel right now, Midtown Reader and Trip Trustees know that books can transport readers to amazing and new places. We have put together a list of books to check out from our travel section until it is safe to travel again:
FOR THE READER WHO LOVES OUR NATIONAL PARKS
100 PARKS, 5,000 IDEAS
by Joe Yogerst
This is a book you will return to again and again. Full of beautiful pictures from the best parks in the United States and Canada, you'll get a sense of wanderlust almost immediately! Not only is the book gorgeous, but it also has lodging information, nearby attractions, and must see highlights. A great coffee table book and a perfect gift for an adventurous friend!
"This book has gone straight to the top as a go-to guide for all sorts of parks. Not only is it full of great information and ideas, but it also contains gorgeous photos on every page." -Along for the Trip
OUR NATIONAL PARKS
by John Muir
Our National Parks will make even the experienced explorer feel the need to hit the roads immediately in search of a new adventure! Originally published in 1901, John Muir passionately shows the importance of protecting our beautiful parks and reservations, which is just as relevant today as it was then.
FOR THE READER WHO LOVES TO HIKE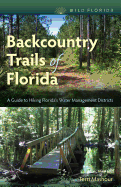 BACKCOUNTRY TRAILS OF FLORIDA
by Terri Mashour
If you're looking to find some trails that are off the beaten path, then check out Backcountry Trails of Florida! It is a great guide book full of information about 100 different trails throughout Florida that would make for a great socially distanced day out in nature. Terri Mashour explains where to find these little-known routes, which ecosystems they feature, and how to plan your perfect outdoor adventure.
EXPLORER'S GUIDE: 50 HIKES IN NORTH FLORIDA
by Sandra Friend
This book is perfect for the hiker and reader who is looking to find an in-depth guide book to help them plan their next day outside! It has topographical information, estimated times it takes to hike each trail, and information on the level of difficulty.
MIDTOWN READER'S FAVORITE TRAVEL BOOKS
TRAVELS WITH CHARLEY: IN SEARCH OF AMERICA
by John Steinbeck
This is not the Steinbeck you think you knew from East of Eden! Travels with Charley will make you end up wanting to hit the road on your own adventure!
With his dog Charley, John Steinbeck set out in his truck to explore and experience America in the 1960s. As he talked with all kinds of people, he sadly noted the passing of region speech, fell in love with Montana, and was appalled by racism in New Orleans.
"Pure delight, a pungent potpourri of places and people interspersed with bittersweet essays on everything from the emotional difficulties of growing old to the reasons why giant sequoias arouse such awe." --The New York Times Book Review
NOTES FROM A SMALL ISLAND
by Bill Bryson
Bill Bryson is a staff favorite at Midtown Reader! He is a warm and funny story teller that you'll adore. Luckily, he has a large catalog of books to enjoy! Stop by the store to see some of his other books available.
Bryson, one of today's most entertaining travel writers, gives students a wonderful jaunt around the unparalleled floating nation that has produced zebra crossings, Shakespeare, Twiggie Winkie's Farm, and places with names like Farleigh Wallop and Titsey. Veering from the ludicrous to the endearing and back again, Notes from a Small Island is Bryson's grand farewell tour of the green and kindly island that had so long been his home.
Though we might not be able to travel like we used to, books will always serve as a form of escape. Stop by the store and visit our travel section in person or shop our online store and visit www.triptrustees.com for more travel planning information!